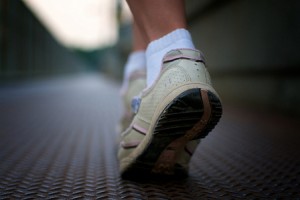 Whether it's to get to work or any other time you need the car / bus / tube / train, try walking or cycling instead.
Most people do have this as a realistic alternative and there's never been a better time to be a cyclist.
Most of our major cities now have cycle routes and pedestrianised areas, meaning it's safer for cyclists and pedestrians and also that it's more congested, frustrating and expensive taking the car.
Walking and cycling is completely free.  Not only is this a great way to save money, you will be keeping fitter and healthier as an added bonus.
Extra Tip: When using cycles, security is an important consideration.  My advice would be to get a decent second hand bike that is not a target for thieves.  If you do insist on having a fantastic new bike, make sure you get a decent D lock which cannot be cut through (ask an expert in any decent bike shop for advice).  It's also worth investing in a decent pair of kevlar tyres as these are extremely difficult to puncture.  (In this case I'll let you spend a bit of money on the bike and kit itself if you are sure about it being a long term replacement for the paid alternatives – you'll more than make back the one off cost provided you lock up your bike carefully and will end up saving a lot of money and continuing to as long as you use the bike).
Next Wealth Tip: Join Freecycle
Previous Wealth Tip: Re-Use Things