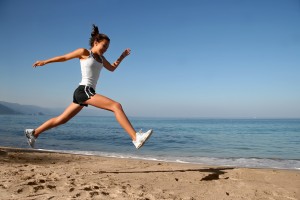 20 minutes of moderate heart-raising exercise 3 times a week is extraordinarily beneficial in achieving and maintaining health (helps lose weight, reduce the risk for stroke, cardiovascular illnesses, diabetes, dementia, fractures, breast cancer, and colon cancer, also helps relieve stress and boost memory).
No need to sweat it unless you want to.
Intensity is less important than the net amount of exercise, and intermittent exercise is as effective as continuous activity.