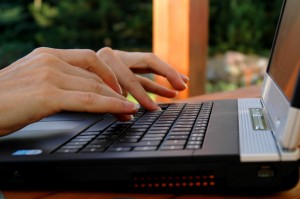 Get Professional Life Coaching for Less!
e-Coaching is a much more affordable option than face-to-face coaching because it removes a lot of the overhead costs (namely premises and travel).
How e-Coaching Works
e-Coaching (coaching by email) is a new service we're offering and we're really excited about it.
You send us an email explaining what you'd like to work on, in up to 600 words.
The coaching process then begins with us responding to your mail after careful consideration.  We'll reply in as many words as we think are necessary and we'll add exercises and further supporting documents as and when necessary
We ask you to reply within a specified time limit (usually 7 days) with your next email of up to 600 words.
We respond again in as many words as necessary with exercises and supporting documentation as necessary.

This email cycle repeats twice more making a total of 4 email cycles

This is one basic e-coaching package and usually takes around a month.  Though the time you have to respond to our mails will be specific, the overall timing is not fixed in any way to allow some flexibility both for due consideration and preparation of our responses but also because different exercises and areas being coached may require differently timed actions.  

You can decide to stop or renew for another package after that.
Why have word limits?
Often a lot can be said in fewer words and you'll be amazed at what you can cover in 600 words when you focus.  This need to really focus on what's important and put this across within a limited structure is the main reason for the limit. There are two other reasons: it helps us to keep the cost of the service down and it eliminates the possibility of clients writing such long emails that they become unhelpful to the process.
Is it for you? Yes, if you…
like to work at your own pace
don't like to be put on the spot
want to keep reference to the emails and what was written in the future
want to try life coaching but don't want to spend too much money
Cautionary Note:
eCoaching is completely different to one-to-one coaching.  It has benefits such as those above which you don't get in a verbal dialogue, it also has some shortcomings. Rapport is more difficult to grow. E-coaching therefore relies less on rapport and more on your self-discipline and your ability to follow the instructions and exercises set by your coach.  As with classic one-to-one coaching, the emphasis is on you to act. All we do is help the process, hold you responsible, help you stay motivated and believing in yourself.  
Why such a short time-frame per package?
The time frame of one month is not long but it is sufficient to:
set a realistic goal
start to understand what has stopped you so far and what needs changing
start taking a few positive actions towards your goal
know whether E-Coaching is for you or not
How much does it cost?
£40 for the first month – payable in advance
The first month consists in 4 email cycles and may last more than a calendar month.
£35 for subsequent monthly renewals – payable in advance and charged by calendar month for any reason, you're unhappy with the process, let us know within one week of our first email to you and we'll refund the whole month.
Testimonials – here's what some of our clients think about our e-Coaching service

'I wasn't sure I would like the format but it turned out to be perfect for me.  I like going back to the coaching emails all of which I've kept for future reference.  It's a bit like my to do list.  I can also read them and reply whenever and more importantly for me wherever I want (I travel a lot). Writing things down helps me think about where I'm at.  It's also very good value for money.  I really recommend it!'
'Thank you Isabelle for all your help.  Your emails and exercises have gone a long way in making me realise what and how I needed to change.'
'I had tried a few life coaching sessions on the phone prior to finding this service. e-Coaching is much cheaper and as effective for me, if not more.  It gives me the time and space to reflect.  I can go back to the exercises again and again.  I am a new person now.  I can't thank you enough!'
Feel free to contact us for more information by e-mailing team@ltgconsulting.net or by using our contact form.