Author: Allie, Ramblings of a WAHM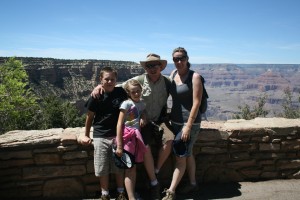 I am a Work at Home Mom or "WAHM".   Ever heard of her?  She is usually an entrepreneur.  Or we like to be called "mompreneurs".  We have decided to make a living from home.
Many WAHM's have home based careers in sales.  They sell offline and in the new economy they sell online also through blogs or service sites.
I am the next stage of WAHM.  I am strictly online.  I can be called an affiliate marketer or social media marketer.  But I like to call myself a Business Blogger.  My main business surrounds my blog, Ramblings of a WAHM, where I actually write about becoming an online WAHM.
Online Blogging WAHM
5 AM.  I'm up, getting ready for the day as a WAHM.  Yes, my day starts this early.  Before the kids get up I need to be showered, dressed and ready, make lunches and eat.  And don't forget the much needed coffee.  7 AM is magic time, I wake up my sleeping kids.  For the next hour it is mayhem in the house, and I only have 2 children.  Then 8 AM is my "mom business" time.
My "mom business" is my online blog.  Well, it is much more than that.  I have a business that revolves around my blog.  I have worked for the last year to build a business in which affiliate sales, social networking, guest blogging and online marketing have taken over my life between 8 AM and 3 PM.  And might I add, this is not easy.
I started a blog in September 2010.  I thought it would be simple.  Sure, technically starting a blog is simple but to find readers and maintain your blog is difficult.  Sure, it is easy to write but writing about the same subject can get monotonous.  Sure, social media and commenting on other blogs is fun but you will need to do it every day.
Beginning to work online with the goal of bringing in an income, especially as a mom with limited hours, feels at times a losing battle.  The job itself can be very enjoyable and rewarding.  I have made great online friends.  I have learned business and marketing skills I did not have last year.  And I can write- a lot.  But, I have to be honest, even the best marketer, business person or writer struggles with gaining that first relevant check to pay an electric bill.  And to achieve this with limited hours is the challenge many WAHM's face.
Business Blogging is Hard Work
When I began this venture I had hopes of online stardom and riches.  The blogging pros like Darren Rowse, Pat Flynn and Chris Garrett warned that most bloggers fizzle out after 6 months, I ignored them.   I knew I would make it past that. Why?
Many bloggers quit after 6 months because, frankly, it can take 2 years to start making a decent living.  I am fortunate, I come from a Stay at Home Mom situation.  I did not quit a job and lose income to go online.  Any earnings I have are actually helpful to our family.  We are not suffering from a job lose. (We are fortunate.)
Blogging can get lonely and monotonous.  I recently learned a very valuable lesson, be very social online.  Branch out and make friends, business partners or simple relationships with others for help, encouragement and just plain sanity.  A blog is the same subject, day in day out, and this can get boring.  Having a way out with others can not only open new doors but keep you happy with in your ventures.
And lastly, this is a business, you get what you give.  If you put in 100% you will start to make your goals.  Give 50% and maybe you will.  Give less effort, quit now.  Sure there are times a business blog simply fails even after you give it your all and that is what a business risks are all about.  But your odds are much better when you are well informed and give it your all.
Many bloggers do not view online income as a business therefore do not realize all the hard work that needs to go into it.
Making Money?
So, do I make money after a year? Yes and no.  I do when I concentrate and make affiliate sales.  If you have been in sales you know they do not come easy and can be sporadic.
Yet, this is not the only avenue of online income.  Someday I would love to sell ad space on my blog, create my own product or simply consult.  And that is only the beginning.  I can say, with a lot of work, knowledge and time, a person can achieve a great online income.
And how about being a WAHM?
I find the challenges I face in terms of being a WAHM can mostly be my limited hours.  If I have a deadline, do not schedule out my work hours accordingly and then must finish work while my children are home, this proves to be a huge challenge.  The main reason I chose to work from home is, one, no commute, and, two, I can be home for my kids.  When kids clash with work, kids win.  This means possible lost deadlines and less money.
But, honestly, what mother, father, commuter or business owner does not have challenges in their personal life?  Sure, I work from home.  I get distracted by family, friends and even the TV at times. But I love what I do and would not trade it in for a commute or a boss.  I am the boss and I am in charge of my own destiny, and my household.
Take Away
My advice, and the advice of many business online professionals, is to keep your job until your online income takes off.  It is an online business.  As I get deeper into this journey I find it is not unlike offline businesses.  One must become knowledgeable in business and marketing, be willing to take risks and most of all know your field.
3 PM.  It is "mom" time and I need to get the kids.