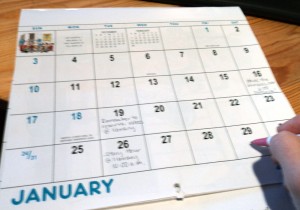 Don't be surprised by costs you should have known about, plan ahead.
Christmas isn't just for December, it's for life. It comes around at the same time every year so there's no reason to be caught out by it financially, you can prepare for Christmas all year round. In fact the best time to buy 'standard' christmas supplies such as wrapping paper and cards is after Christmas has been and gone when all of these items will be on sale.
Plan ahead too for holidays – flights, hotels and purchases needed for the holiday. Often booking early will save you a lot of money, and give you more time to find the kind of accommodation you want at a reasonable price.
In your daily life you can plan ahead too – for example with food. Do you throw away food? You can make some fantastic, different meals just by being guided by what food you have left to use up. Let this help determine what you will cook. Make one meal a week clear-out the fridge instead of letting things hidden behind other things go off so they have to be thrown away. Don't buy too much in the first place – plan ahead.
Make one meal a week clear out the fridge.
Extra Tip: A really easy way to make planning ahead easier is to have a really simple calendar on a wall somewhere you spend a lot of time (like on or by the fridge in the kitchen), keep looking at it from time to time so that dates and events don't appear suddenly but you see them coming – and use it lots to jot down reminders and notes.  Keep a pen right by it so you don't have any excuse for not keeping it updated.