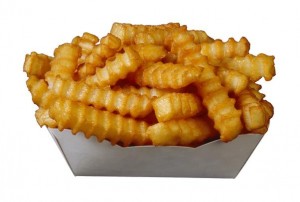 Trans-Fats are used by the food industry to make products last longer and cost less.
You may have already heard about trans-fats also called hydrogenated fats. You'll find them in margarines, cookies, fast food,…
The Problem With Hydrogenated Fats
'Slight' problem…hydrogenated fats are not naturally-occurring fats. They are made artificially by bombarding fats with hydrogen atoms in order to change their molecular structure.
Pretty clever science… but not for our body which does not know how to deal with it and cannot eliminate it.
Consequently, hydrogenated fats clog our arteries. They also raise the levels of bad cholesterol and decrease the levels of good cholesterol. They have been directly implicated with heart disease, cancer, multiple-sclerosis, strokes, obesity, Alzheimer's disease, diabetes, women's infertility, liver dysfunction.
It was suggested that trans-fats may cause 30 000 to 100 000 deaths a year in the US and as many as 7 000 premature deaths along with many thousands of heart attacks in England.
Bans Already In Place In Some Areas
As a result of years of alarming research, Denmark decided to ban them in 2003, New-York in 2006, Philadelphia in 2007, Switzerland in 2008.
In the UK, NICE (the body making recommendations to the NHS) has recommended a ban but, so far, nothing has been done by the government which is counting on voluntary measures to reduce trans-fats. But even if some supermarkets have banned trans-fats from their own brand, many products still contain hydrogenated fats. Moreover trans-fats are not just in products you buy.
How can you be sure next time you eat chips in a restaurant (and I'm not just talking fast food) that they haven't been cooked in hydrogenated fats?
Use Consumer Power: Stop Buying Trans-Fats
If the government won't act, there's something we can all do for a start:
Use our consumer power and stop buying products containing trans-fats.
How can you recognize the culprits in your supermarket?

Read the ingredients list: If it says hydrogenated or partially hydrogenated fats, don't buy it.
Pay particular attention in discount shops because they import their products from countries where standards are different.
As far as fast-food restaurants are concerned, most big chains – due to law suits in the US – have taken steps to reduce the hydrogenated level of their cooking oils. But, the small independent ones have had no pressure to do so. And there's no way you can really know what they use. There's no labeling there. The best thing to do is to limit the number of times you eat fried food.
As for non fast-food restaurants, you can always ask them…
Conclusion
In the absence of a government ban of trans-fats, all you can do is read labels, pay attention and spread the word: Don't eat trans-fats. Don't put your health at risk. It's not worth the risk. It won't even taste better!
This very short 2 minute video explains the issue pretty well: