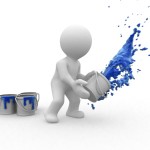 Continuing the Accountability Journal for this site's progress, the main thing that we've done this week is that we've changed the look and feel of the site.
Why?
To try and achieve the following things:
a more contemporary look to the site
make it easier for new visitors to see what the site is all about
more prominence for our favourite posts & pages
try to 'guide' visitors around the site better
help visitors who arrive via the home page find what they're looking for easier
increase the amount of time people stay on the site
Doh!
Stupidly, I forgot to take a screenshot of the old look and feel of the site to show you a before and after picture, but I will have a dig around and if I can find something, then I will put before and after shots here so you can see what I mean.
Navigation
Incorporated in this change are a lot of 'usability' changes too, mainly the following:
Added an About page – deliberately very clean, simple and short, telling you as briefly as possible why Life's Too Good
Simplified Menu – every menu item is one short word
Added a 'New Visitor? Start Here' section to hand-pick the posts new visitors should be guided to first (rather than the most recent or the most visited)
Changed Footer – moved 'Meet the team' and 'Recent Posts' into the footer
Added 'Let's connect' section – added to footer to make a clearer distinction between 'connecting' and 'sharing' icons
Added 'Navigation page' to show what various sections of the Home Page are for, explaining how the site is organised in the process
Added 'How To…' page to show how to do various things on the site (get particular advice, use the site for marketing, get tailored feeds etc)