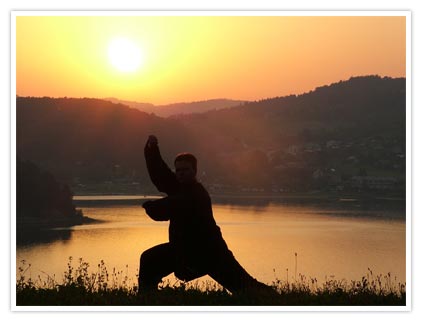 Tai-Chi is one of the best things that ever came out of China.
Created hundreds of years ago, Tai Chi is a martial art that concentrates on mastering your own energy (Chi). It is done is by slowing right down martial art movements whilst breathing correctly and at the right time. Eventually you learn a long sequence of movements (called a form). There are many different forms (some even include swords).
Is Tai-Chi Good Exercise?
The slowing down of movements does wonders for your muscles (it is actually much more demanding on your muscles to kick slowly and remain in control than to kick quickly – try it), for your balance (you learn to transfer your weight completely from one foot to another remaining always grounded), for your mind (the focus on your movement and the 'now' helps you forget your worries and your stress). The posture (shoulders down, long neck, head high) and the arms movements help you relax your upper body.
The Power Of Chi: Strengthening Your Body's Defenses
Although it is not proven by our Western medicine, the power of Chi seems to have an added benefit, that of strengthening your body's defenses. That's why the Chinese Sports Commission compiled standardised Tai Chi forms in the 1950s in an effort to make Tai Chi more popular. The best way I have read it being explained in our Western way is that the slow Tai Chi movements would gently massage internal organs thus strengthening them.
No matter how Tai Chi works, there is no denying its very beneficial effect on health.
Introducing Tai-Chi Into Your Life
So, how can you go about introducing Tai Chi into your life?
The easiest way is probably to find a class near you. There are many different Tai-Chi styles and once you start to learn a form with a teacher, it can be difficult to find another teacher who will teach the same one. Be aware of this when picking the right class for you.
Another way, if you prefer the comfort of your own home or trying things at home first is to buy a book. That's the way I started. I bought many Tai Chi books and found 2 of them particularly helpful.
The first one, T'ai Chi Chi Kung: 15 Ways to a Happier You
by Peter Chin Kean Choy. It's more than just a book full of movements. Peter has his own uplifting vision of the world, his own philosophy and tries to teach this through exercises and examples. That's what I love about this book.
The 2nd book I can recommend is Tai Chi Chuan: 24 & 48 Postures with Martial Applications
by Shou-Yu Liang. It comes from a martial art background and is extremely useful in getting the standardised 24 and 48 positions and movements right. I particularly enjoyed the explanations behind each movement (how would it be used in a martial art way).
For those who have never seen what a Tai Chi form looks like, here's a good video on YouTube of the Standardised 24 form (24 movements) :
Now Try Some Tai-Chi For Yourself…
Finally, I thought I'd leave you with a little exercise in case you wanted to try it straight away!
Start by adopting the correct basic posture:
Feet:
Stand with your feet apart, shoulder-width
Keep your feet parallel
Sink all your weight down along your spine and down to the feet like a tree anchoring its roots
Knees:
Keep you knees slightly bent so they are over your toes and aligned in the same direction as your feet
Torso:
Keep your body centered, tuck your sacrum in slightly, round your back slightly
Loosen your waist and hips
Arms:
Sink the shoulders and drop the elbows
Arms along the body (not glued to your sides – imagine you're holding eggs under your armpits)
Extend the fingers
Head:
Keep your head upright as if you were pulled by a string
Let your tongue rest lightly on the roof of your mouth
Keep your facial muscles, jaw and neck relaxed and your eyes straight
It's Important To Relax
The body needs to be loose and open so that Chi can flow freely. Turn your thoughts inward instead of outward. Don't think of the past or the future, just be in the moment. Imagine a waterfall pouring gently over your head. As water passes, let your tensions sink from your upper body down through your legs to the soles of your feet and into earth. Repeat until you are completely relaxed.
When you feel relaxed (you will eventually!!), turn your palms outward and raise your arms laterally. Keep them slightly bent and raise them above your head. When they're on each side of your head, start lowering your arms slowly, palms down, hands going down in front of you in the center. When your hands are just below your navel, let them drop towards each side of your body. Breathe in when your arms go up, breathe out when they go down. Repeat the complete sequence several times.
Move slowly and be aware of your body (the parts that move: your arms and palms but also the parts that do not move: your shoulders should remain always low and relaxed, your legs and feet remain firmly rooted into the ground). Try and feel the air against your palms as you move. Imagine that the air around you moves like water would if you were in a swimming pool. Feel its resistance and its weight.
If you found this too slow or found it hard to keep concentrated, remember that, with Tai Chi, you will learn complete sequences of movements (24 movements, 48 movements, some even longer than that). The first forms are slow on purpose. They are meant to warm you up. As you progress, the level and demand on your body is higher, the speed quicker. It is not however a martial art such as karate or judo with coloured belts, gradings and fights. The objective here is not to become a black belt as quickly as you can! If you can let go of that mentality and accept to learn and perfect your movements for the serenity, body and mental health Tai Chi can bring you, you will get so much out of it.
Give it a go and … enjoy!